Tivoli Cinema
Talk

0
9,663pages on
this wiki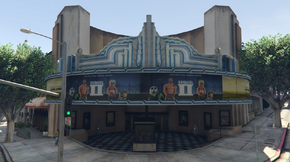 The Tivoli Cinema is a movie theater in Grand Theft Auto V located at the intersection of Morningwood Boulevard and Cougar Avenue in Morningwood, Los Santos. It is based on the Fox Bruin Theater in Los Angeles. It is one of the three theaters in the game where the player can watch movies, along with the Oriental Theater and the Ten Cent Theater.
It is a property that can be purchased by Michael De Santa for $30,000,000 after the mission Nervous Ron. It will generate a weekly income of $142,300. After purchasing the Tivoli, the manager might request Michael to assist him in managing the theater, by distributing flyers through the city or protect them from gang attacks.
Trivia
Tivoli, or Tibur, is an ancient Italian town founded in the 13th Century BC. One of its main attractions is a maritime theater.
There are many cinemas and theaters in real life that bear the name Tivoli.
After purchasing the cinema, the manager Danny will call Michael and congratulate him on buying the bussiness. He will say that Michael can come to the cinema any time and watch movies for free.