=========================================================================
Edit
A Little About Me:
My name is William, I'm 26 and am currently studying towards a professional diploma. I live in New Zealand, a little country on the other side of the world that a lot of people don't even know exists. First off, no it is not a part of Australia and we get quite agitated when are confused with those Aussies. But before I start rambling let me continue.
I'm a huge fan of Rockstar's Grand Theft Auto series. I joined this wiki community for interests sake and to contribute to GTA knowledge. I would have to say that my favourite GTA game so far has to be Episodes From Liberty City: The Lost and Damned. I've grown quite fond of Johnny and his roguish band of misfits. The game's ending was terrible though!
Perhaps you are wondering why I haven't told you more about myself. Well, as my username states I enjoy being somewhat of an enigma. I never did like being the center of attention and if you want to know more you can always approach your resident friendly Kiwi bloke. You know what they say, the ladies love a mysterious guy ;). Not that I'm a ladies man in the slightest.
Friends on the wiki
Edit
My all time favourite GTA character...Mr Angus Martin!
Edit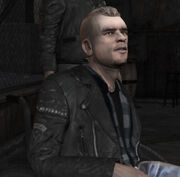 A supporting character from the 
The Lost and Damned
, Angus Martin has to be my all time favourite character in the GTA series. He really didn't deserve the fate he got and if you look past his pessimism and general sombre nature he is actually a smart man with some good ideas.
If it wasn't for that arsehole Billy, Angus would have been right up there with Johnny and Jim, riding with his brothers. Loyal and honest Angus is the sort of man you want to have at your back. GTA Wiki page: Angus Martin
Don't give up yet Angus. Surgery can do amazing things.
My favorite pages
Edit
"Episodes From San Andreas: Brotherhood Reborn" Main Character & Gang
Edit

Disclaimer: The 'Angus Martin' page exists as a continuation of the story of Angus Martin. All credit for the original character goes to Rockstar Games.
My Creations
Edit
Just a few little creations of mine that will become elements in my larger fan-fiction story revolving around the story of an outlaw motorcycle club in San Andreas. To make it clear for everyone, these are entirely fictional and non-canon, they are completely made up by myself and in no way constitute in-game content. Right, now that that little disclaimer is out of the way, enjoy!

Places

Businesses

Gangs
People