Welcome to Smashbro8's awesome page! Feel free to look around or a leave a message on his talk page! This user page is a restricted area for editing without his permission. Enjoy!
I am an Administrator on this wiki.

Message me if you have any problems or suggestions, or if you spot anything bad.
I am a Patroller on GTA Wiki.

Message me if you have any problems or questions, or if you spot anything bad.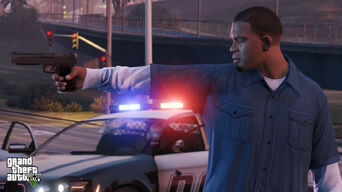 Hi, I am Smashbro8! I am a huge fan of the Grand Theft Auto games especially, Grand Theft Auto:Vice City, Grand Theft Auto: San Andreas, Grand Theft Auto IV, and The Ballad Of Gay Tony. I also enjoy Grand Theft Auto V to a certain extent. I am also looking forward to helping out this wiki. If you need to ask me anything concerning GTA Vice City, GTA San Andreas, GTA IV, GTA V, or The Ballad of Gay Tony, please message me on my talk page! Good luck and enjoy Grand Theft Auto!
Character
Edit
CHARACTER


Smashbro8

A misfit causing trouble and escaping from the law XD, Corrupt FIB agent

Appearance(s):
Grand Theft Auto: Vice City, Grand Theft Auto: San Andreas, Grand Theft Auto IV, The Ballad of Gay Tony, Grand Theft Auto V
Also known as:
Harold Joseph, Shark Boy, Young Wiz Khalifa (joking)
Status:
Alive
Gender:
Date of birth:
May 18, 1997
Place of birth:
Brooklyn, NY
Home:
Lawrenceville, GA

Nationality

:
African American
Family:
Candy Suxxx, Juliet, Roman, Yusuf Amir, Little Jacob, Molly Schultz, Joni, Carl Johnson, Armando Torres, Chop, Vagos
Vehicle(s):
Baller, FIB Buffalo, FIB Granger, Enforcer, Felon GT, Bati 801 RR with Sprunk livery, Zombie, Monroe, Entity XF
Businesses:
FIB, Burger Shot, Richards Majestic Productions
Voiced by:
Himself
Friends and Allies
Edit
| Type of edits | Edit count |
| --- | --- |
| Total | 14,291 |
| Article | 12,213 |
| Talk | 152 |
| User | 76 |
| User talk | 1,047 |
| GTA Wiki | 12,213 |
| GTA Wiki talk | 12,213 |
| File | 32 |
| File talk | 0 |
| Template | 4 |
| Template talk | 0 |
| Category | 203 |
| Category talk | 0 |
| User blog | 4 |
| User blog comment | 295 |
| Blog | 0 |
| Blog talk | 0 |
About me and GTA
Edit
Favorite Protagonists
Edit
Favorite Non-playable characters
Edit
Favorite Vehicles
Edit
Favorite Weapons
Edit
Favorite Songs
Edit
Mr. Vegas- Mus Come A Road
Ron Browz- Jumpin Out the Window
Raheem Devaughn- You
Kanye West- Flashing Lights
Busta Rhymes- Where's My Money
Johnny Polygon- Price on Your Head
Fat Joe and Lil Wayne- Crackhouse
John Legend- Green Light
Busta Rhymes- Conglomerate
Kanye West- Love Lockdown
Freeway- Carjack
Consequence- I Hear Footsteps
Skyzoo- The Chase Is On
Talib Kweli- My Favorite Song
Saigon- Spit
Lloyd- Get It Shawty
RAMP- Daylight
Jill Scott- Golden
Alexander O'Neal- Criticize
Loose Ends- Hangin' on a String
Jane Child- Don't Wanna Fall in Love
Kelly Rowland- Work
Rihanna- Only Girl 
Stardust- Music Sounds Better With You
Hall and Oates- Adult Education
Britney Spears- Gimme More
Amerie- 1 Thing
Future- How it Was
100s- Life of a Mack
Kendrick Lamar- A.D.H.D.
Ab-Soul ft Kendrick Lamar- Illuminate
DJ Quik- Dollaz and Sense
Tupac- Ambitionz Az a Ridah
Ice Cube- You Know How We Do It
Kurupt- C-Walk
Dr. Dre ft Snoop Dogg- Still D.R.E.
Mack 10 and Tha Dogg Pound- Nothin' But the Cavi Hit
Snoop Dogg- Gin and Juice
Geto Boys- Mind Playin' Tricks On Me
Marshall Jefferson- Move Your Body
Aaron Hall- Don't Be Afraid
Soul II Soul- Keep on Movin
Bell Biv Devoe- Poison
Boyz II Men- Motownphilly
Bobby Brown- Don't Be Cruel
Today- I Got The Feeling
Johnny Gill- Rub You the Right Way
Favorite Quotes
Edit
| | |
| --- | --- |
| | This article or section is Under Construction. |
Watch the road motherfucker! The road!- Ryder
OG Loc laugh*. Ay ay ay ay, It's OG Loc homie and I'ma kick a little something like this! Ay yo when I come through up in the base, you don't me to come with a gun in your face! 
I'm GANGSTA!!!- OG Loc
Yo that shit sucks!! Damn!- Bogman
The entire dialogue of Gone Courting. 
The entire first cutscene of Caught With Your Pants Down. 
Shit! I give you one simple job! Idiota!- Catalina during Small Town Bank
Damn man his lyrics is horrible! That dude need some work. Hell yea!- Ryder and CJ (second sentence only)
Ay babe want company? MOTHERFUCKERS!!! CJ (first sentence) and Big Smoke (last sentence)
What's up with Jizzy? Dead! What's the plan? - Cesar Vialpando and CJ
All we had to do was follow the damn train CJ! -Big Smoke
Can't stop me!- Ryder
We're jacking a train holmes?!- Cesar Vialpando when riding the Kincaid Bridge during Highjack. 
You're Dead!- Trevor, after being provoked by a civilian to fight. 
You're really making my skin crawl!- Michael after feeling provoked
Fuck all you fucking fucks!- Michael, during a firefight
You know what? You should go see a doctor for that shit.-Michael after feeling provoked
You know what? You are one nasty fuck!- Michael after feeling provoked
GTA Reviews
Edit
GTA Vice City
Edit
Graphics: 7/10
Location: 10/10
Gameplay: 7/10
Storyline: 6/10
Music 9/10
GTA San Andreas
Edit
Graphics: 7/10
Location: 10/10
Gameplay: 10/10
Storyline: 9/10
Music: 9/10
Graphics: 9/10
Location: 9/10
Gameplay: 3/10
Storyline: 3/10
Music: 7/10
Graphics: 9/10
Location: 9/10
Gameplay: 8/10
Storyline: 10/10
Music: 9/10
Graphics: 10/10
Location: 6/10 (too much country)
Gameplay: 6/10 (long list of complaints on this one, however, after the Independence Day Special I enjoy it more, possibly because of having The Liberator to cause chaos with. Despite that, I still believe that GTA V needs a permanent Invincibility cheat and a Lock Wanted Level cheat.)
Storyline: 8/10 (I enjoyed it unlike some other people)
Music: 9/10 
Best GTAs (my opinion)
Edit
Location: GTA San Andreas, GTA Vice City, GTA IV/TBOGT, GTA V
Edit
Gameplay: GTA San Andreas, GTA V, GTA Vice City, TBoGT, GTA IV
Edit
Storyline: GTA San Andreas, TBoGT, GTA V, GTA Vice City, GTA IV
Edit
Total: GTA San Andreas, GTA Vice City, GTA V, TBoGT, GTA IV
Edit
Full Reviews
Edit
GTA Vice City
Edit
GTA Vice City was an incredible game too, however, I haven't gotten too far in it to really write much about it. Vice City is an impressive city and hopefully it returns to the HD Universe soon. I loved how the missions, despite having no checkpoints, gave you a decent amount of money from the start of the game to much higher as compared to GTA V where you mostly got money from Heists. The Landstalker was by far my most favorite car in this game, and I usually went out my way to find one. Tommy was a decent protagonist. The only thing I can really say I hate in the game is the lack of mission checkpoints (though this exceeded all the way to GTA IV) and the fact that I mostly couldn't detect when an on foot officer was chasing me, only to be knocked down by them and instantly Busted. I also hated how Tommy could not swim, when in Vice City all I wanted to do is dive in the beach water and go swimming, like one would really at Miami Beach. 
GTA San Andreas
Edit
Five words: The best GTA game ever. San Andreas has among the funniest and most interesting storylines I've ever played in a sandbox game. It could even be a movie and be a success. San Andreas had amazing characters, great voice actors/actresses, three interesting cities, and lots of detail to locations. If it was replicated into GTA V, with the Gyms and everything, GTA V would be a bigger hit too. The gyms were a favorite to me and there were lots of interesting weapons and ways to make a profit in the game. CJ was an amazing protagonist. He was funny, tough, and more. He beats Franklin to me, even though Franklin was a good protagonist too. All cities had a beautiful skyline and had something unique and interesting about them. The Gambling feature made it easier to gain money and San Andreas features almost all minigames that made the GTA series popular (excluding Most Wanted). I feel, much like how Saints Row fans who played Saints Row 1 and 2 (though I only played 2) got disappointed with Saints Row 3 and 4 (with Saints Row 3 being awful and Saints Row 4 being a fun game but not fitting the true definition of Saints Row shown in 2) , those who played San Andreas would more be disappointed with GTA IV and GTA V than those who only played GTA IV and GTA V.
GTA IV was an okay game to me. However, I did not like the lack of checkpoints in missions (much like in Vice City and San Andreas), and though I did not get far, some missions such as Russian Revolution, Hostile Negotiation, and Three Leaf Clover weren't that easy. I also hated the improved police system though I now praise it compared to GTA V's police system, and some vehicles such as the Enforcer were too hard to obtain to test drive. Don't laugh, but I never got my hands on the Annihilator yet in both GTA IV, its episodes or GTA Online. There also needed to be much better activities but I loved the Most Wanted and Vigilante in this game. I loved to spawn an FIB Buffalo using cheats and hunting down criminals until I died. I also hated how friends called too often and if you say no, you lose their liking for you. It made exploring harder in the game, which is another reason why I prefer The Ballad of Gay Tony. Finally, though, somewhat mentioned above, I hate the instant three star wanted level you get for shooting or killing a cop, when some of them deserve to be shot at (this feature I also hate in GTA V). However, I love how Rockstar made Liberty City look so similar to New York City, my birthplace (Brooklyn). It makes you feel like you'd look for your family member's houses in that game. I only feel the cities' sunlight needs to be brighter as during the daytime, Liberty City looks very dark, gray and ugly. I love the subway and taxi system, as it makes traveling much easier, but the city would be more alive if the Buses ran in the city like in the real New York (as well as GTA V's rendition of Los Santos). I also love the new girlfriend system; I wish TBoGT or GTA V had them as well. I didn't really like Michelle, and my current girlfriend for Niko is Carmen Ortiz lmfaooo. Yes, I know she can be really ratchet at times. Despite this, GTA IV still isn't the best sandbox game and is the worst GTA game in my opinion, though Saints Row 3 is the worst sandbox game I've ever played hands down. 
This was an amazing DLC, though I never decided to play The Lost & Damned yet. I love Luis as much as I love CJ. He has amazing dancing skills and I love the ability to meet various women, dance with them and then get their phone number to call to meet up for some body time XD! Armando and Henrique are such cool Hispanic friends to Luis; they somewhat make me wish I had Hispanic male friends to chill with in reality. Yusuf makes a tie in the whole GTA series (along with Ryder) as the funniest GTA character in my opinion. He's such an idiot XD. GTA would be incredibly funny and fun to me if Yusuf became a protagonist in one of the next games or DLCs. TBoGT also brought in some impressive weapons, which should've been in GTA V: the Automatic Shotgun, Assault SMG, Gold SMG, Advanced MG and Assault Sniper. Most importantly, The Ballad of Gay Tony has introduced one of the best vehicles in both the GTA series and the Saints Row series, the APC. With such speed and strong power, I have never had so much fun speeding, flipping over people's vehicles, and shooting several rockets at people, vendors, and of course, other cars. The APC wins my award as the best GTA IV series vehicle and it hurts my heart that it failed to make it in GTA V, though GTA V would make it less fun causing chaos with it due to the improved police system. The APC also by far beats Saints Row's Bear. Also, the addition of the Bullet GT, Super Drop Diamond, Buzzard, Swift and Serrano made The Ballad of Gay Tony an awesome DLC. 
To put it short and simple, I enjoy GTA V but not as much as most fans do. GTA V to me is improving, however, there are several things I hate about it.
Health - When I first played GTA V, I had no idea where the health bar was. When I finally found it, I was surprised to see how small the bar was. I was even more unimpressed by how easy it is to die. Some people claim that the police in GTA V are too strong. I agree, but I also think that in GTA V you die way too fast and feel like a weakling compared to the surroundings. Unlike other games, in GTA V most protagonists cause survive at least two shotgun shots before dying. Pedestrians can also kill the protagonist in 4 to 5 punches which is ridiculous. Due to the health system, it makes some things such as shooting the Ballas or going on a killing spree more difficult and less enjoyable. I also hate how the protagonists instantly die with a cougar bite, as compared to other games such as Far Cry 3 where you can fight a bear, shark, crocodile or even a tiger and survive. Cougars are also very difficult to detect and take down before they kill you as well. 
Cops- The police are my among my biggest complaints in GTA V. I hate how they respond to every single crime you commit, making the game not so enjoyable. Sometimes, we all have plans such as to go kill everybody in the strip club (it's possible) or shoot at a group of gang members, only for that to be ruined by the police. The police to me are way too smart and powerful in this game that it makes the game almost impossible to enjoy without being killed by them. I also don't understand how some say the best way to lose the police is to hide. I've hid in alleys several times only to have either a police helicopter, police officer or a police cruiser come find me and start the whole chase over again. I also think it takes way too long to lose the police. Who wants to wait in an alley for five minutes to just lose the cops? Another thing I hate about the police is that it is nearly impossible to evade them if you are on a bike. If you don't get your tires popped by the officers or Spike Strips, or ram yourself into a roadblock, you are rammed by the rear of your bike off the bike by officers, instantly killing you. The final thing I hate about the police is their new tactic of driving in front of you and copying your every move to slow you down and trap you. During this, it's hard to shoot and kill the officer driving in front of you and if two police cars trap you in front and behind you, chances are you are going to die. 
Clumsiness of protagonists and expensive Hospital Bills - In GTA V, the protagonists are incredibly clumsy to me. You can fall off a bike way too easily like if it's nothing. Also, the protagonists take way too long to get up after a fall. If you are being chased by the police and happen to fall off your bike or be Windshield Ejected, 99% of the time you are going to be killed instantly by the police. Also, to me, due to the lack of many ways to get money after The Big Score and the many ways of being able to easily be killed, we should not lose $5000 for every death. We are losing more money than gaining, which isn't fair to me. 
Lack of fun activites and ways to make money - To me some of the activities in GTA V are fun for a short period of time then incredibly ridiculous. I still wonder where did Rockstar think Yoga and Tennis would be fun. Some of the activities that made GTA famous aren't in GTA V. Vigilante, Firefighter, Paramedic, Freight, Burglar, Gambling, Dancing, Most Wanted, Courier, Hotring, Blood Bowl, Import/Export, Girlfriends and vehicle delivery missions didn't show up though I wouldn't expect all of them to show up, but it would be better if we had those instead of useless Tennis, Yoga, Golf and Darts. I can only imagine robbing someone's house in the HD Universe. Also, after GTA V is completed, there are very few ways to get money excluding Strangers and Freaks and Random Events. It takes a purchased property a whole in-game week to make a profit, and if you are a player like me, you are just gaining back the money you just spent dying several times. I prefer how GTA San Andreas' assets make money. You play for like an hour or two and come back for a $1000 or more dollars, instead of playing for like 5 days in GTA V to only get a few thousand dollars. I'm still wondering how does Rockstar expect us to buy the golf club. 
Car Spawn system - Most players don't see this or don't really care and use the excuse "it's in there to make the game realistic", but Rockstar's car spawning system in GTA V is screwed up. Most vehicles don't have a particular spawn point and just spawn to me and others such as Ballers (though I love both Ballers) and Beejays spawn too much. Some modern cars spawn in Blaine County, which is quite unrealistic for the country. To me, Rockstar also made the spawning of motorcycles quite rare, along with the sports and few supercars that actually spawn in the game world. I also am annoyed that we have to now purchase the luxurious and super type cars for them to spawn in the game world. Unlike GTA IV and episodes, where every fast and super car had a specific spawn point or will eventually spawn in the game world after playing the game for a while, we have to purchase them for them to spawn. That is utterly ridiculous as some of us would like to test drive the car and not buy it. Also, using the new bought car and losing it after a death (if the impound garage is already packed with some other cars) is just a waste of money. 
Too much Country - I always felt that we needed more cities than countryside in GTA V, much like how GTA San Andreas did it, but they actually did it backwards. We have one major city which can get old pretty quick and several towns. San Andreas had every location unique from farms, mountains, plains, deserts, plateaus, picnic areas, forests, creeks, rivers, lakes, ghost towns, etc to the big bustling cities of Los Santos, San Fierro and Las Venturas. Also, Los Santos and Blaine County lack many enterable buildings to check out or go kamikaze (insane rage) in. What also isn't impressive is how Liberty City in GTA IV and episodes have two strip clubs, three nightclubs (only two are accessible though regularly in TBoGT), a comedy club, enterable restaurants to replenish health and several bars while GTA V has one strip club, no nightclubs (excluding Bahama Mamas West which cannot be entered and can only be used on friend activities), no comedy clubs, no enterable restaurants to replenish health, a few bars and no gyms. I also hate how GTA V lacks the ability to control Trains. 
Difficulty of getting into Fort Zancudo and Bolingbroke Penitentiary - I don't know if I'm a horrible player or what but I have never successfully invaded neither Bolingbroke Penitentiary or Fort Zancudo without dying, making the Titan, P-996 LAZER, and Prison Bus (along with the Unmarked Cruiser, Sheriff SUV, Stinger, Mower etc) one of the few vehicles I never drove for the whole year and two months I've had GTA V. I think Rockstar made Fort Zancudo and Bolingbroke Penitentiary way too difficult to invade, even though some players are incredibly skilled in invading both places. Regardless of what method I used, I always end up being killed by Rhinos, making the fact that they now shoot at invaders one of the worst new features in GTA V. 
My only complaints for GTA Online is those idiotic players who feel the need to kill you or steal your vehicle for no reason but I do not play GTA Online much (embarrassed that I decided to play as a female; I can be idiotic at times). 
Despite all I have written above, you may think I hate GTA V more than any other game. That's not true but I don't believe it is the best GTA game nor is it the best sandbox game in general. GTA V lacks to me what I found impressive in GTA Vice City/San Andreas, The Ballad of Gay Tony and GTA IV, and Saints Row 2 (even though Saints Row 2 is a different series sandbox game). It, along with GTA IV and episodes, tends to be too realistic, decreasing the amount of fun in the game. I am a person who likes a game not too realistic, but not too stupid and cartoonish like Saints Row 3 and 4. In GTA San Andreas and Saints Row 2, it was possible to shoot up places and cause chaos without the police ruining it all the time and responding right away. However, in GTA IV and GTA V one cannot go crazy on a killing spree without being shot to death soon. Due to both games' realism, cops are smarter and use more difficult to evade ways to pull you over, cars' wheels will mess up after a few crashes (GTA V), you die a lot faster, etc, making both games more difficult and less fun. Realism does not make a game to me and too much of it is an issue. We don't want games where we get arrested for speeding, must pay for gas, and die in one shot or stab. Also, to me, based on the Beta Releases, Beta Vehicles and Beta Weapons pages, Rockstar's plans for GTA V would've made the game more fun if they had just released them into the final version. I would love if they added all the beta vehicles (especially the APC, Hunter, Hydra, Lokus, and Military Patriot) to the game and the beta releases page says that Gyms and working out were to be featured in the game but were removed. I feel the Hunter, Hydra, and APC could have been added to the game, despite having similar vehicles already as Saints Row 3 had three attack helicopters: The Tornado, Vulture and Eagle, along with a military Bulldog that could shoot missiles, a VTOL, tanks and the Bear APC tank. I also wanted Las Venturas and San Fierro to return to GTA V, but I somewhat doubt Rockstar is planning on doing so unless it is for the enhanced version of the game. I also think Rockstar should've added more ways to make money and more interesting activities in GTA V instead of lame Yoga, Tennis, etc and having to search for missing scuba or space parts. However, when it comes to the police, I blame Rockstar fans (similar to how I blame the fans of rappers and singers for making their new songs become hits when to me they are some of the worst music I ever heard and I'm a serious rap fan) as they wanted a tough cop system, and now the cop system is way too tough and annoying to deal with to me. I honestly feel GTA V also needs a Lock Wanted Level and permanent Invincibility Cheat so I can enjoy doing some of the fun things in GTA V such as going on killing sprees and shooting a Sawn-off shotgun while on a motorcycle without being killed by annoying police. However, on the good side, GTA V is improving and sadly I don't cannot afford the new version of GTA V. Only God knows what is more to come in GTA V (i.e. the Heists Update) before we have GTA VI (GTA six). PS: GTA V also wins my award for the finest strippers (beating the African-American strippers in GTA IV and episodes), with Juliet and Cheetah both winning the top award <3. 
GTA Gallery!!
Edit
GTA vs. Saints Row
Edit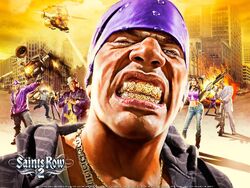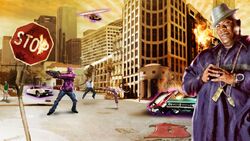 I am also a humongous Saints Row 2 fan, which was obviously GTA IV's rival. However, there are things in both games that i didn't like. Again, these are my opinions, you do not have to agree with them. 
GTA San Andreas
Edit
This is a tough one as some people believe Saints Row 2 is a complete copy of San Andreas. I love both games and am very upset that so many criticize Saints Row so bad for copying GTA that they've gotten to making their games so foolish and cartoony. Anyway, both CJ in San Andreas and the male African American protagonist in Saints Row 2 (using male voice 2) are hands down amazing protagonists and none beat one another (even though I currently play as a badass female in SR2 that's tough to kill ;) ) Stilwater vs San Andreas' cities is also a tough choice because Stilwater is very well designed. Stilwater is unique in its own way, as every district has something interesting about it. For example, Stilwater has a district for pimps, prostitutes, and strip clubs, a district for downtown, a district for factories, a university district, a suburbs district, a hotels and beach district, a high end shopping district etc. However, though San Andreas' cities cannot beat how well planned Stilwater was (as compared to lame and ugly Steelport in the following SR games), the features of these cities and the activities within them can beat Stilwater too. 
Accessible Gyms. Players can work out. 
A better and more powerful minigun. 
More interesting activities though Saints Row 2 also had excellent activites. 
Gang Wars are more fun in this game as compared to just getting a Wanted Level in Saints Row 2. 
The ability to have several girlfriends as compared to Saints Row 2 where it is impossible to date someone. 
Some characters such as Cesar and Catalina are more interesting than some of Saints Row 2's characters. 
The ability to dance, play basketball and rob houses, both which would have been awesome to do randomly in Saints Row 2. 
Weapons spawn around the world, much like in any other GTA. Weapons must be bought in Saints Row 2. 
Bicycles are featured in this game, unlike Saints Row 2. 
GTA beats Saints Row 2 obviously in the collisions with the cars. 
GTA IV wins with the better radio system. 
The cars are more realistic looking. 
You can access the Police Computer and take out Street Criminals or violent gangs, as well as Most Wanted criminals, while in Saints Row 2 you cannot. 
Strippers actually give you lap dances :D! 
Finer strippers (love African American strippers in this game).
Taxi Rides are more entertaining. 
Cruising with cars in this game are more fun!
The Cover System is a fun and stealthy way to attack random people or enemies. 
You can travel on Subways while in Saints Row 2, you cannot.
Highways are more realistic.
Rare vehicles either have a specific spawning point or just spawn much more often than Saints Row 2's rare vehicles. 
More realistic looking nights and weather, as compared to Saints Row 2, where it is quite difficult to even notice it is night time (due to the orange left in the sky during night hours)
TBoGT's APC beats Saint Row's Bear by far.
Some of TBoGT's weapons such as the Automatic Shotgun with its explosive rounds beat Saints Row's weapons. 
Despite being the newest, GTA game, GTA V still can't top Saints Row 2, however it does have some things better than it.
Better looking strippers, both GTA IV and GTA V beat Saints Row 2's what they call "strippers" XD. 
Players can now fly commercial airliners and fighter jets, both of which aren't in Saints Row 2 (excluding the AB Destroyer that appears in a DLC of the game). 
Cruising is better in this game (and GTA IV/TBoGT) than in Saints Row 2. 
Players can shoot a Sawn Off Shotgun on a motorcycle or Bus while in Saints Row 2 it is not possible to shoot a shotgun on any bike period. 
Bicycles are featured in this game, where they are not present in any Saints Row game. 
Saints Row 2
Edit
More weapons
More melee weapons
Different fist fights depending on how your player is made. 
More explosives
GTA IV did lack the amount of fun activities that existed in the previous GTA games and Saints Row 2 such as Firefighter, Ambulance, Taxi, etc. Other old vehicle missions i wish existed in both games such as Burglar and Trashmaster missions. 
Custom made protagonists!!! 
Saints Row 2 police are less harsh and scary. In GTA IV and its DLC i like to commit crimes but I am afraid of the cops since they are too smart. I can easily cause lots of mayhem and survive a five star wanted level in Saints Row 2, but I will even die at three stars with ease in GTA IV.
In Saints Row 2, you cannot get three stars for shooting/killing a cop, unlike GTA IV. 
I cannot get busted in this game unless I am knocked down within an officer's reach. 
I keep all weapons if busted. 
There are more enterable buildings and places to explore in Saints Row 2 than GTA IV. I can access the airport's interior (and even take planes away from there), the police headquarters, a few hotels, an underground cave, a prison island, a Nuclear Power Plant, a mountain, the university area, suburbs,random building rooftops (good areas to snipe), malls, lighthouse, court, beach various casinos, nightclubs and strip clubs, etc.
No four star wanted level for accessing the runway of the game's airport. 
Cops are less likely to get pissed off and come after the player in this game than in GTA IV where the slightest thing you do attracts police attention.
There is more to do such as assassinate a list of pedestrians, go bananas in the Mayhem activity, finding secret areas, spraying people with a Septic Tank cannon, destroying a bum's territory, mission strongholds, defeating all cops in the police headquarters, vehicle derby, etc.
More hidden objects to find such as CDs, spray tagging spots, and secret areas. 
Heat Seeking Rocket Launchers! So awesome! 
It is more fun to snipe people with in this game. 
I do not need Body Armor in the game, for my health regenerates after not being harmed for a few seconds. 
It is easier to escape police because wanted levels vanish automatically if refusing to commit any more crimes, instead of escaping a search radius in GTA IV. 
More stuff to destroy in this game than in Saints Row 2. I can destroy vending machines, explosive trailers, trees, you name it. 
The player can pick up many objects and use them to attack people or enemies. 
You can hire ally gang members to help you fight during missions or random gameplay. 
No friends call the player constantly, unlike in GTA IV. 
It is much easier to collect or earn money in Saints Row 2 than in GTA IV. 
You can make your own playlist in the game so that all your favorite songs in the game play on one custom made radio station. 
More gangster-like feeling in the game, due to amount of weapons and their abilities, the ability to use drugs, and also building up a gang empire. 
Robbing Stores and mugging pedestrians exist. 
Car and gang customization!
Pedestrians do slightly more activities in this game than in GTA IV. 
Stilwater of Saints Row 2 is prettier than Liberty City of GTA IV (day and night cycle). 
The player sprints faster in this game than in GTA IV. 
Many different unlockables exist in this game such as infinite ammo, infinite sprint, random rare vehicles, etc. 
More safehouses
Lots of cars in the game can be stored in the game's garage at various safehouses instead of the few two-car residential parking for GTA IV (therefore forcing characters to pick cars to store wisely). 
I am also more threating and difficult to defeat (my opinion) in Saints Row 2 than GTA IV. 
However, I believe GTA has finally defeated Saints Row since Saints Row 3 was a crappy, sad disappointment and Saints Row IV seems to be almost just as dull and bad as its prequel. Grand Theft Auto V on the other hand, looks extremely exciting and less likely to be disappointing than Saints Row's cartoony, more rated E (though ESRB places it as M) crap.