---
  Archives: 1 | 2 | 3 | 4 | 5 | 6 | 7 | 8 | 9 | 10 | 11 | 12 | 13 | 14
---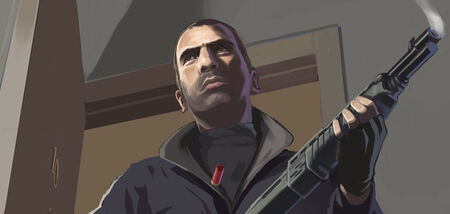 "You do realize you are reading this line right now? I mean, I can post everything that comes to my head and you'll STILL read it!. Quotes are just so fucking awesome, don't you think? Anyway, take a seat... oh, wait. This is a talk page: there are no seats! XD"
―Ilan xd.
Talk to me if you need something to know about the series, if someone wrote wrong edits, or if you just want to say 'Hi'.
---
Possible Vandal...
Yo, Master Ilan. We got this unlucky bedfellow who keeps on adding fan-fiction pages and images. I already gave him a light warning about this, but if he continues to persists, then we gotta make a takedown.
--Tony1998 (Talker * Blogger * Stalker)-- 05:36, June 28, 2014 (UTC)
Question
Could you unlock the Grand Theft Auto IV page so I can add something?Snugeez (talk) 17:08, July 7, 2014 (UTC)
You and Tom replied at the same time, and thank you Snugeez (talk) 17:20, July 7, 2014 (UTC)
Hey, I realised that 100% completion isn't under 'GTA Information' in the Wiki navigation bar, and I think it should be. I wrote some code that should fit in perfectly:
**100% Completion|100% Completion
***100% in GTA III
***100% in GTA Vice City
***100% in GTA San Andreas
***100% in GTA IV
***100% in GTA V

  User:LegenDove 08:21, July 14, 2014 (UTC)
Crews?
http://gta.wikia.com/Crews/Komodo_Trade_Corps as far as I am aware, crews are not allowed to be pages, I saw this one. Leon Davis (talk) 09:39, July 16, 2014 (UTC)
RE:
This user should be blocked like for the message he left me, and complaining to RageQuit and Tom about his edits being removed, saying "it's not fair" and left RageQuit some threating messages.Cloudkit01 (talk) 23:58, July 17, 2014 (UTC)
So Cloudkit, you are telling all of us that you couldn't simply warn the guy for what he was doing and explain what he's doing wrong? You can't just simply remove someone's messages without at least telling him what he did wrong like seriously. I know numerous users who really aren't doing nothing bad, they just don't know where they are going wrong. Plus calling someone a brat stubborn child is just not nice at all. Honestly, if a random user called you that you wouldn't like it so don't go around calling them names behind their backs. Ilan, I honestly feel the user needs a warning. If he continues, then he can be blocked. That's my opinion. That's all for now. 

(

) 02:48, July 18, 2014 (UTC)Smashbro8
This User and another User
They are actually mistreating me.I am putting relevant edits but they considered them as spectaculation.Can you please talk to them?They should be given a lesson BlackforestTaylorSwiftie (talk) 09:48, July 18, 2014 (UTC)
We could of discussed this (; Which edits did I revert or edit or remove? Snugeez (talk) 16:38, July 24, 2014 (UTC)
Promotion
What is the possibility/requirements for me to make Patroller here? I'm very active, know enough about all GTA games, have been active for over a year, and I'm already admin on another wiki. Leon Davis (talk) 09:21, July 25, 2014 (UTC)
I have put a request up. It would be greatly appreciated if I can get promotion. Leo68 (talk) 05:36, July 29, 2014 (UTC)
RfP
Hey. Could you vote on the GTA Wiki:Requests for Promotion page for me? Thanks. LS11sVaultBoy (Talk) 14:53, July 31, 2014 (UTC)
Could you demote Istalo for me please? His demotion request passed. LS11sVaultBoy (Talk) 17:27, July 31, 2014 (UTC)