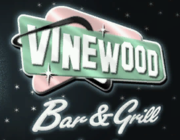 Vinewood Bar & Grill is a Vinewood-themed restaurant featured in the HD Universe.
In GTA IV, there is an establishment on Columbus Avenue in The Triangle district of Algonquin, Liberty City. Judging by its Googie-styled and space-like logo and mascot of the restaurant, its interior decoration may be entirely based on 1950s/60s-styled furniture. Given the subject matter of its theme, the restaurant is presumably a parody of Planet Hollywood.
In The Ballad of Gay Tony, Luis Lopez is able to take Armando Torres and Henrique Bardas to the restaurant as a friend activity.
In GTA V, there is another restaurant located at the Rockford Plaza in Rockford Hills/Burton, Los Santos.
See also
Edit