Vinewood Boulevard (HD Universe)
Talk

0
10,406pages on
this wiki
For the radio station, see Vinewood Boulevard Radio.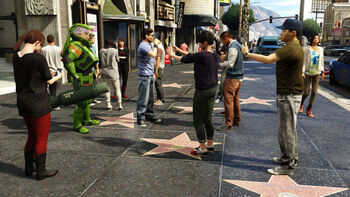 Vinewood Boulevard is an iconic street in Grand Theft Auto V located in Downtown Vinewood and East Vinewood, Los Santos. It begins at Las Lagunas Boulevard in the west and ends at the intersection with Vinewood Park Drive in the east, where it becomes Mirror Park Boulevard. The boulevard also has connections to Alta Street, Power Street, Meteor Street and Elgin Avenue.
Description
Vinewood Boulevard is very lively and crowded, due to its popularity in the celebrity culture of Los Santos. There are several tourists walking around the pavement, looking closely at their tourist guides and using their phones to take pictures. An interesting feature of the pavement is the Vinewood Walk of Fame, which lists many famous celebrities ranging from musicians such as OG Loc to radio talk hosts such as Lazlow Jones. Notable landmarks include the Oriental Theater, where performers can be seen entertaining the crowds of tourists, the Pacific Standard Public Deposit Bank and the Von Crastenburg Hotel. Vinewood Boulevard is based on the world famous Hollywood Boulevard.
Mission Appearances
Places of Interest
Theaters
Businesses
Encounters
Gallery
See Also