Vinewood Boulevard (HD Universe)
Talk

0
10,208pages on
this wiki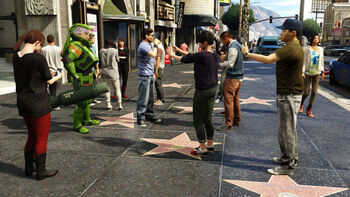 Vinewood Boulevard is an iconic street in Grand Theft Auto V located in Downtown Vinewood, Los Santos. It begins at Las Lagunas Boulevard and ends at the intersection with Vinewood Park Drive, where it becomes Mirror Park Boulevard.
Description
Vinewood Boulevard is very lively and crowded, due to its popularity in the celebrity culture of Los Santos. There are several tourists walking around the pavement, looking closely at their tourist guides and using their phones to take pictures. An interesting feature of the pavement is the Vinewood Walk of Fame, which lists many famous celebrities ranging from musicians such as OG Loc to radio talk hosts such as Lazlow Jones. Several attractions are present, such as the Oriental Theater, where performers can be seen entertaining the crowds of tourists.
Influence
Vinewood Boulevard is based off the real life Hollywood Boulevard.
Mission Appearances
Businesses
Places of Interest
Theaters
Encounters
Several NPC characters can be encountered along Vinewood Boulevard and the player can engage in conversation with them (though they don't count towards the game's random events or Strangers and Freaks tally). This includes an actor dressed as Impotent Rage in front of the Hardcore Comic Store and another actor standing on a street corner dressed as a zombie.
Gallery
See Also