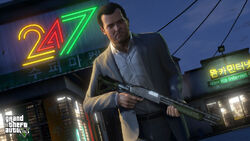 The Wan Ka Internet Cafe (왕카인터넷) is a business in Grand Theft Auto V. Not much is known about it, other than it may be a place to access the internet. Judging by the Hangul characters, it is located in Little Seoul, Los Santos.
The words Wan Ka is a reference to the British term for a person who enjoys constant masturbation, "Wanker".
Wan Ka does not resemble any Korean words. In fact, Wan Ka is actually what internet cafes are called in Mandarin (网咖).