"Real Talk. Real Issues. Real Patronizing. Radio that's all about you."
―GTA V website.
West Coast Talk Radio or WCTR is a talk radio show with many liberals, conservatives, and exotic people in Grand Theft Auto: San Andreas and Grand Theft Auto V. It is owned by Ammu-Nation. It is headquartered in Missionary Hill, San Fierro in GTA San Andreas and in West Vinewood, Los Santos in GTA V, and consists of several programs. In Grand Theft Auto V, WCTR is only available to listen to in the city of Los Santos with Blaine County Talk Radio replacing it when traveling north.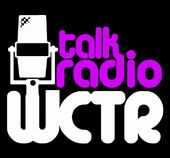 Grand Theft Auto: San AndreasEdit
Grand Theft Auto VEdit
Depending on a player's progress through the game's storyline, the segments played on WCTR will change. Thus, during one segment of the game, the player may only hear specific portions of programs not to be heard again as new segments are aired. This phenomenon is prominent in the 'WCTR News', 'Entertaining America', and 'The Wild Traveler' programs. Various intros, outros and comments delivered by Barbara Fox. Several characters from the main game make cameos in the radio programs and advertising.
It shows the occasional news breakthrough from the game, and OG Loc makes the occasional appearance after you "retrieved" some rhymes from Madd Dogg. Big Smoke also appears as a person who is forced to serve community service and is spokesperson for the "little guy." The radio station is a great suggestion for GTA Fans who are looking for a good laugh while on a roadtrip in San Andreas.