redirect Lago Zancudo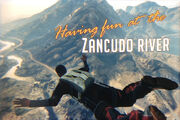 The Zancudo River is a river located near the city of Los Santos, San Andreas. It apparently is an attraction for parachuting. It is set in a desert climate and possibly a forest climate as well. At some point, it runs into a waterfall. 
InfluenceEdit
Zancudo River is based on San Jacinto Valley.
Zancudo is Spanish for a malarial mosquito. 
AppearancesEdit