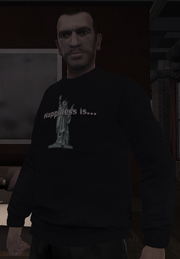 The
"Happiness Is...Land" Sweater
is an outfit available to
Niko Bellic
in
Grand Theft Auto IV. 
Description
It is a single-piece outfit consisting of a unique navy blue sweater, with the slogan "Happiness is..." paired with a picture of the iconic statue on the front, and "...land" on the back. It can be found lying on the ground at the entrance to the Statue of Happiness.
This piece of clothing was also available in Crate Drops during the Independence Day Special in GTA Online, though the "...land" part of the back of the sweater was removed to make way for the player's crew emblem.
Trivia
The text written in the shirt makes a reference to the song "Happiness Is A Warm Gun" from The Beatles "White Album"
Gallery
Ad blocker interference detected!
Wikia is a free-to-use site that makes money from advertising. We have a modified experience for viewers using ad blockers

Wikia is not accessible if you've made further modifications. Remove the custom ad blocker rule(s) and the page will load as expected.