3671 Whispymound Drive is a safehouse in Grand Theft Auto V, given to Franklin Clinton upon completion of the Hotel Assassination by Lester, located on Whispymound Drive in Vinewood Hills.
Obtaining the Safehouse
After The Hotel Assassination Franklin is told by Lester that his portfolio was getting a "little successful", so he figured tangible assets would be the best investment. For tax reasons someone needed to live there. Michael already had a mansion and Trevor would not be suited to a mansion, so Franklin was the best person to live there, which relieved Franklin as he wouldn't have to live with his aunt, Denise, anymore.
Description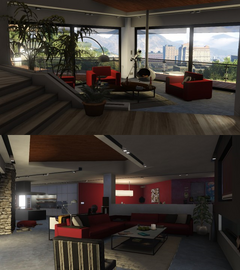 The property is a modern house in Vinewood Hills with two floors, a garage, and an infinity pool and Jacuzzi. In the driveway, Franklin's Personal Vehicles are parked adjacent to the road. A large living area with a kitchen to the west and stairs to the bedroom to the east. The kitchen has a counter and an adjacent island, and a door is permanently open that leads to the deck. Outside, the deck, garage, and backyard are all connected at a staircase to the left. Downstairs, the bedroom is connected to a hall with three other inaccessible rooms. A walk-in closet is accessible in the bedroom. A door to the backyard is permanently open after the Hotel Assassination. The residence is decorated with abstract art and characterized by modernist architecture.
Amenities
Notable Residents
Vehicles
Mission Appearances
Bugs
Gallery
Trivia