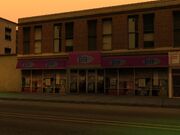 The 69¢ Store is a discount store in Grand Theft Auto: San Andreas that has two locations in Los Santos, one in Idlewood (inaccessible), and another in El Corona which is accessible to the player. These stores are based on real-life 99¢ stores, and another one of the many references to the "69" sexual position made throughout the game.
They can be faintly seen in Grand Theft Auto IV; however they are inaccessible to the player, and play no role in the story.
Trivia
If the player enters the 69¢ Store in El Corona, its interior would be like any 24/7 interior.
Gallery