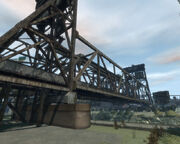 The Acter Bridge is an unnamed derelict bridge which crosses the canal separating Tudor from the Acter Industrial Park.
Description
The bridge is a large two-lane steel-truss raising bridge. The bridge connected Tinderbox Avenue to the north and Trinity Road to the south.
The bridge appears to have been closed for a number of years, as weeds are growing through the concrete and the steel girders are severely rusted. The northern approach to the bridge has been removed, but the southern approach remains in situ, albeit fenced off from the road.
The bridge appears to resemble the Stillwater Bridge which crosses the Hudson River in New York.
Mission Appearances
Grand Theft Auto IV and Episodes
Ad blocker interference detected!
Wikia is a free-to-use site that makes money from advertising. We have a modified experience for viewers using ad blockers

Wikia is not accessible if you've made further modifications. Remove the custom ad blocker rule(s) and the page will load as expected.