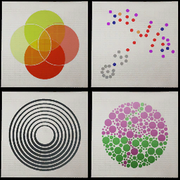 Adam Biggs is a fictional world-renowned artist in Grand Theft Auto IV.
A selection of his artworks is on display at the
Randolf Art Center
but unfortunately the player cannot access the building. His artworks can be seen in certain buildings hanging on walls. Biggs achieved cult-like status for his paintings of circles during the 1950s and 1960s and is considered to be the father of the Abstract Literalist movement (does not exist in real life).
Ad blocker interference detected!
Wikia is a free-to-use site that makes money from advertising. We have a modified experience for viewers using ad blockers

Wikia is not accessible if you've made further modifications. Remove the custom ad blocker rule(s) and the page will load as expected.