MANUFACTURER

Albany is an American automotive company in the HD Universe of the Grand Theft Auto series.
Overview


The company is an automaker, based on Cadillac. Albany, along with Bravado, Declasse, and Vapid, is one of the largest manufacturers in the HD Universe.
Albany has two logos that are widely used: a silver "A" with a crown within, and a crowned rectangular emblem. The first logo is mainly used on older models (with the exception of the Cavalcade, Cavalcade FXT, and Alpha) and the second is typically used on much more modern models, but their oldest car shown so far, the Roosevelt, uses the modern logo (possibly a developer oversight).
Vehicles
Dealership Locations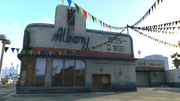 Trivia
The old logo is vaguely similar to that of real-life manufacturer Maserati, however it's probably a coincidence since the two companies have nothing else in common.
The company's name is a possible reference to Albany, the capital of the state of New York.
There is a real-life defunct car manufacturer named Albany.
The Washington is the only Albany car not based on a General Motors product, as the Washington is a based upon a Lincoln Town Car.
Although the first logo may look like any other typical crown, it however contains sexually explicit materials. If observed closely, it is visible that the crown is made up of four men with erect penises. Two can be seen on the most left and right leaning wheras the other two can be seen in between them facing back to back.

There is also a sexually explicit material in the old logo: in the top middle, there is a triangle in the middle of two balls, a reference to a penis.