This article contains insufficient information and is considered as a Stub. You can help the GTA Wiki by expanding it as much as you can.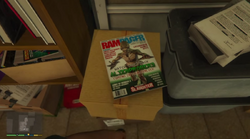 AlienProber3 is a film featured in Grand Theft Auto V.
Description
A promotional poster can be found in Lester's House. The film also appears on the cover of a sci-fi/gaming magazine called "Ram Rager". Its slogan is "Coming in your airlock" and "watch your back". Unfortunately, the player cannot see the movie.
It could possibly be based on the film series Alien.