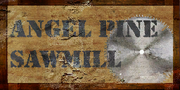 The Angel Pine Sawmill is located in the center of the town of Angel Pine. It is the biggest logging company in the whole of the countryside. It is worth noting that the sawmill is a palette swap of the Liberty City Sawmill. It appears prominently in the mission Lure as the starting point for the decoy drive.
Vehicles
Ad blocker interference detected!
Wikia is a free-to-use site that makes money from advertising. We have a modified experience for viewers using ad blockers

Wikia is not accessible if you've made further modifications. Remove the custom ad blocker rule(s) and the page will load as expected.