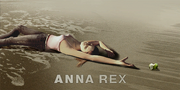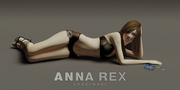 Anna Rex is a clothing company featured in Grand Theft Auto IV, Grand Theft Auto: Chinatown Wars and Grand Theft Auto V. Advertisements for the company are seen all over Liberty City. It is featured in the in-game website www.peepthatshit.com in the "Street Fashion" section. The name of the brand is derived from anorexia - an eating disorder. The name can also be a parody of stores such as Anne Taylor or Lane Bryant - however, Lane Bryant is a plus-size store.
On October 24, 2012 Rockstar released an artwork from GTA V in which an Anna Rex store is seen so the brand is most likely to reappear in the game.
Store Locations
GTA IV
A store on a street in Willis.
See also
Trivia
Anna Rex is a pun for annorexia