Ad blocker interference detected!
Wikia is a free-to-use site that makes money from advertising. We have a modified experience for viewers using ad blockers

Wikia is not accessible if you've made further modifications. Remove the custom ad blocker rule(s) and the page will load as expected.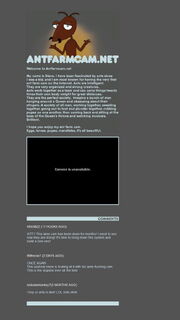 antfarmcam.net is a website in Grand Theft Auto IV. It was set up by an ant enthusiast called Steve. It's supposed to be a website where you can watch ants, but the cam is down. Some users have said that the camera is down for months.
The website is a parody of stevesantfarm.com, a real ant farm webcam that has been online for twenty years. It is also one of the first webcams on the Internet.
Comments
kingbzz:
"WTF! this lame cam has been down for months! i need to see how they are doing! its time to bring down this system and build a new one"
it9thorax7
ONCE AGAIN
This asshole steve is fcuking at it with his lame fiucking cam. This is the stupidst ever all the time
lxxdudemonkey7
i hop ur antz is ded/ LOL ants stink