This article or section contains insufficient information and is considered as a Stub. You can help GTA Wiki by expanding it as much as you can.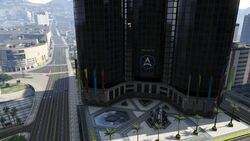 The Arcadius Business Center is a skyscraper featured in Grand Theft Auto V and located in Downtown Los Santos, San Andreas. This building has a characteristic circular form with interconnected towers. It features a helipad on its roof.
Influence
It is based on the Westin Bonaventure Hotel in Los Angeles, California.
Trivia
There is an inconsistency between the design in GTA V and the real-life building; the Westin Bonaventure Hotel building has 4 cylindrical towers, whereas the Arcadius Business Center only has 3.
The triangular logo on the building is identical to the player icon on the minimap in the HD Universe.
This is the building where Franklin covers Michael from in the mission Three's Company.
Gallery