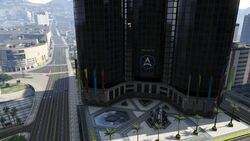 The Arcadius Business Center is a skyscraper featured in Grand Theft Auto V and located in Downtown Los Santos, San Andreas. This building has a characteristic circular form with interconnected towers and features a helipad on its roof. It is located just right next to the Union Depository, connected by a bridge. It is based on the Westin Bonaventure Hotel in Los Angeles, California.
Events in GTA V
In the heist mission The Big Score, if players choose the obvious way to steal the gold, then Michael, Franklin and the gumman will have to fight their way through the building to the getaway car stopped in its underground parking lot after the gold is taken by Trevor.
This is the building where Franklin covers Michael from in the mission Three's Company.
Trivia
The Westin Bonaventure Hotel has 4 cylindrical towers, whereas the Business Center only has 3.
The triangular logo on the building is identical to the player icon on the minimap in the HD Universe.
The Westin Bonaventure Hotel bears the number 10 on its helipad, whereas in-game it is 11.
Gallery