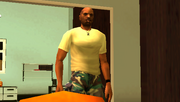 The Army Fatigues are the automatic outfit given to Victor Vance in the army during the beginning of Grand Theft Auto: Vice City Stories. The outfit consists of beige top, camouflage pants and black low tops.
The fatigues will be the only outfit Vic can wear until Conduct Unbecoming. The outfit is unavailable after the mission when Victor is kicked out of the army.
Upon completion of Over The Top, the outfit is made available again. Wearing this outfit allows the player to access the Fort Baxter Air Base without issue.
Ad blocker interference detected!
Wikia is a free-to-use site that makes money from advertising. We have a modified experience for viewers using ad blockers

Wikia is not accessible if you've made further modifications. Remove the custom ad blocker rule(s) and the page will load as expected.