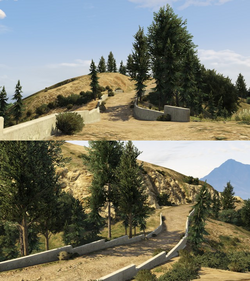 The Arthur's Pass Trails is a hiking trail in the sub-district of Galileo Park in Vinewood Hills, Los Santos County.
Description
This area is managed by the San Andreas Parks Commission. It is located just north of the Galileo Observatory.
The trail leads from the Observatory parking lot to a summit which offers a view of the Baytree Canyon in Great Chaparral. Many hikers can be seen here enjoying the landscape and taking photos with their mobile phones. A 'BIG' Juice Stand can also be found here. If the player visits the trails, it is advisable to watch out for cougars present in the area.
Influence
It is probably based on the real-life Griffith Park Trails located near the Griffith Observatory in Los Angeles, California.
Gallery
Trivia
Ironically, there is a real-life township named 'Arthur's Pass' in New Zealand.
Ad blocker interference detected!
Wikia is a free-to-use site that makes money from advertising. We have a modified experience for viewers using ad blockers

Wikia is not accessible if you've made further modifications. Remove the custom ad blocker rule(s) and the page will load as expected.