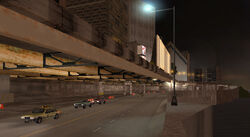 The Aspatria - Bedford Point Expressway is a freeway located on the west side of Staunton Island on Liberty City in Grand Theft Auto III and Grand Theft Auto: Liberty City Stories. It passes through the districts of Aspatria, Belleville Park and Bedford Point. It is sometimes known as the North-South Expressway of Staunton Island, due to the expressway starting north at the Aspatria ferry station (only in Grand Theft Auto: Liberty City Stories, though). It ends south, just near the south end of another highway. The highway is one of the three highways in Staunton Island which continues all the way in an oval, and the three joined highways officially ends at Fort Staunton.
Ad blocker interference detected!
Wikia is a free-to-use site that makes money from advertising. We have a modified experience for viewers using ad blockers

Wikia is not accessible if you've made further modifications. Remove the custom ad blocker rule(s) and the page will load as expected.