"You're a goddess, smoke like one too."
―Slogan
Athena 200's is a brand of women's cigarettes featured in Grand Theft Auto: Vice City Stories, Grand Theft Auto IV and Grand Theft Auto: Chinatown Wars.
Description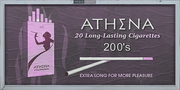 Ads for Athena 200's can be heard on the radio in GTA Vice City Stories (with the slogan "You're a goddess, smoke like one too.), and it is also mentioned in the Redwood Cigarettes website, stating that "no real man would smoke an Athena, even if he was drunk" and Cousin Ed makes fun of Lazlow in GTA VCS stating that he probably smokes Athena 200's, once again criticizing him.
Ad blocker interference detected!
Wikia is a free-to-use site that makes money from advertising. We have a modified experience for viewers using ad blockers

Wikia is not accessible if you've made further modifications. Remove the custom ad blocker rule(s) and the page will load as expected.