Automated teller machines, more commonly known as ATMs, are computerised machines that can be used to complete monetary transactions such as balance check or withdrawal. It has appeared in three games so far: Grand Theft Auto: San Andreas, Grand Theft Auto IV and Grand Theft Auto V.
DescriptionEdit
GTA San AndreasEdit

The ATM is a non-interactive device. It features heavily in the mission Small Town Bank for Catalina, where the player must destroy some ATMs and retrieve the money inside. Even if the player can't use the ATM, it is implied that the machine accepts PISN, Master B8tr and Pla$tic cards, and is available for 24 hours.
In GTA IV, ATMs are interactive devices, but only serve as a means to show the player how much money the player has - despite the fact that the player's money is already displayed in the game's HUD. ATMs in GTA IV can be found in various locations throughout Liberty City, and are implied to be operated by the Bank of Liberty.
Occasionally, if the player kills a pedestrian who just used an ATM, massive amounts of money will spawn repeatedly on the ground. This will happen even with cops, who normally only drop their pistol.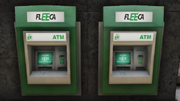 In GTA V, ATMs play a more important role. Michael, Franklin and Trevor can visit an ATM to deposit or withdraw their money into their bank accounts. The player has five options to deposit money, ranging from a few dollars to all the money the player has collected. Since places like Ammu-Nation stores and real-estate brokers accept debit cards, it is not necessary to extract big stacks of cash from ATMs in order to make big purchases. The player can also use their in-game cell phone or laptop to deposit or withdraw money from Internet.
In the game, there's also an Random Event that involves the player pursuing a robber after he steals the wallet of a pedestrian while he was withdrawing money from the ATM.
ATMs can be found in many locations throughout San Andreas, outside Fleeca, Maze Bank or Lombank branches, and in places like the Vanilla Unicorn, Maze Bank Arena, or the ground floor of some buildings in Los Santos. 
GTA OnlineEdit
In GTA Online, the player can visit an ATM to deposit their collected money into their bank account to prevent it from being stolen by other players. It is best to visit ATMs when not around many other players in GTA Online, for if the player visits an ATM, they are vulnerable to attacks. The player's money can then be stolen from other players, making the use of ATMs in the game very risky. The safest option is to deposit and withdraw money using the cell phone or a laptop, from Maze Bank's website.
The player can find the closest ATM with the Quick GPS option of the Interaction Menu, holding the Select button (PS3) or the Back button (Xbox 360).
Types of ATMsEdit
Locations (GTA IV)Edit
Locations (GTA V)Edit
| | |
| --- | --- |
| | This article or section is Under Construction. |