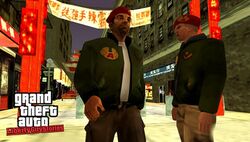 The Avenging Angel's Fatigues is an outfit in Grand Theft Auto: Liberty City Stories, which allows the player to complete the Avenging Angels side mission. The outfit is unlocked after the mission Frighteners for Salvatore Leone, and allows Toni Cipriani to wear the outfit from his three safehouses in Portland Island, Staunton Island and Shoreside Vale.
Trivia
The hat was originally red instead of black as seen in the pre-release screenshot.
Ad blocker interference detected!
Wikia is a free-to-use site that makes money from advertising. We have a modified experience for viewers using ad blockers

Wikia is not accessible if you've made further modifications. Remove the custom ad blocker rule(s) and the page will load as expected.