Not to be confused with BF, the car manufacturer in the HD Universe.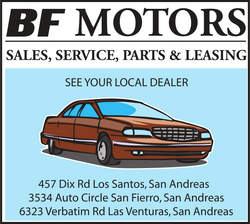 BF Motors is a business in Grand Theft Auto: San Andreas that sells and services cars.
Description
According to the advertisement, there are three dealerships operating in the state, but they cannot be seen in the game itself. BF Motors also appears as a sponsor on the Racing Suit given by Michelle Cannes to her boyfriend, Carl Johnson. The car that is pictured on the advertisement bears a resemblance to the 1992 Buick Roadmaster sedan.
It's not actually known what "BF" stands for, but there is a possible connection to the BF-400 motorcycle and BF Injection dune buggy, both vehicles in the game with unknown manufacturers. BF is also featured as a car manufacturer in GTA V, based on Volkswagen. 
Locations
Note: These locations cannot be found anywhere in the game
Ad blocker interference detected!
Wikia is a free-to-use site that makes money from advertising. We have a modified experience for viewers using ad blockers

Wikia is not accessible if you've made further modifications. Remove the custom ad blocker rule(s) and the page will load as expected.