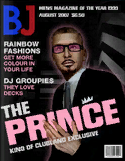 BJ is a magazine in the HD Universe, appearing in Luis Fernando Lopez's apartment in The Ballad of Gay Tony and in certain online apartments.
Description
It appears to focus on celebrities and is most likely a parody of the men's magazine "GQ". Tony Prince's can be seen on the cover in GTA IV, where as in Grand Theft Auto V, Joe Thornton graces the cover.
Trivia
BJ stands for blowjob, another of the Rockstar's sexual jokes.
Ad blocker interference detected!
Wikia is a free-to-use site that makes money from advertising. We have a modified experience for viewers using ad blockers

Wikia is not accessible if you've made further modifications. Remove the custom ad blocker rule(s) and the page will load as expected.