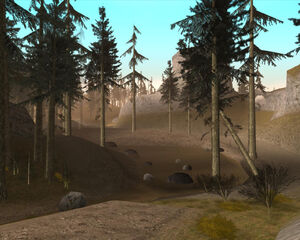 Back o Beyond is a thickly forested area in Grand Theft Auto: San Andreas, located in southeastern Flint County, San Andreas, neighboring Shady Creeks and the rest of Whetstone to the west, the Los Santos Inlet to the east, and Leafy Hollow and Flint Range to the north.
Description
Back o Beyond is one of the most isolated areas in San Andreas, with close to no structures built aside from roadways and bridges. The area is heavily forested, featuring terrains of various elevations, varying rock formations, and a basin/lake towards the north that appears to link up to a waterway into the Los Santos Inlet but is blocked off by rocks. 
This particular area has achieved notoriety for being the home of several fan-based rumors and myths, including Bigfoot and the Ghost Cars. Additionally, there is a small basin/lake that has dark brownish water, which is a unique phenomenon in the entire state. Due to a texture glitch, if a vehicle is partially submerged into this body of water, the submerged part of the vehicle will become invisible to the player if viewed from the surface.
Spawned items
Weapons
Parked vehicles
Gallery
Trivia
External Links