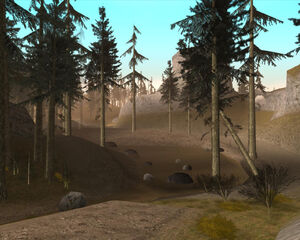 Back o Beyond is a thickly forested area in Grand Theft Auto: San Andreas, located in southeastern Flint County, San Andreas, neighboring Shady Creeks and the rest of Whetstone to the west, the Los Santos Inlet to the east, and Leafy Hollow and Flint Range to the north.
Description
Back o Beyond is one of the most isolated areas in San Andreas, with close to no structures built aside roadways and bridges. The area is heavily forrested, featuring terrains of various elevations, varying rock formations, and a basin/lake towards the north that appears to link up to a waterway into the Los Santos Inlet is actually blocked off by rocks. At night dense fog combined with eeriy silence makes the area very creepy.
Trivia
There is a tree that the player can walk under. If the player is wearing a jetpack, they can fly up inside the tree, only to be stopped at the tip.
The Flashback FM song "Scarface (Push It To The Limit)" mentions an area called "Back of Beyond":
Going for the back of beyond
Nothing's gonna stop you, there's nothing that's gone
So close now you're nearly at the brink
So push it, ooh yeah!
There have been many supposed sightings of Bigfoot in this area.
Spawned items
Weapons
Parked vehicles
Gallery