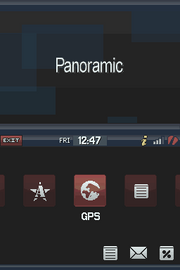 BadgerOS is the operating system found on the PDA in Grand Theft Auto: Chinatown Wars.
Description
As the name suggests, it is available on devices running on the Badger network. It can be customized with different themes, such as Sprunk and Tw@.
The OS is most likely a parody of Symbian, a discontinued operating system from Nokia.
Gallery
Trivia
Despite the OS is set in 2009 (where GTA: CW is set in that year), the Android version show the different version of BadgerOS than either PSP, iPhone, iPad, and Nintendo DS version (The version of BadgerOS in Android version of GTA: CW show version 3.0, where this OS build on 11:11:11, in December 12th, 2014)
Ad blocker interference detected!
Wikia is a free-to-use site that makes money from advertising. We have a modified experience for viewers using ad blockers

Wikia is not accessible if you've made further modifications. Remove the custom ad blocker rule(s) and the page will load as expected.