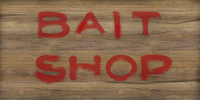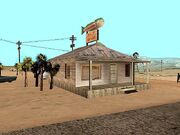 The
Bait Shop
is a shop that sells fishing bait. The business can be found in
Grand Theft Auto: San Andreas
located in
Tierra Robada
,and also
Angel Pine
,
San Andreas
. The shop is located on a road with a decent sized base across from it. Power lines stringed along a single line of telephone poles can be seen above the shop.
Located next to the shop is a lone trailer. This is most likely where the shop owner lives. Usually a Freeway, Sanchez, or Wayfarer will spawn near the trailer. On the other side of the shop is small path that leads to a pond that puddles up from a small river which is fed by the Sherman Reservoir. At the pond there is a small dock that is meant for fishing.
There is nothing to do at this bait shop and the shop itself cannot be entered.
At the bait shop in Angel Pine, the shop is very similar towards the one found in Tierra Robada, but the shop is covered in undergrowth. It is located across from your first Save point when you have completed all the missions in Los Santos. The shop does not have stationary vehicles next to it but there are vehicles behind the shop at the Angel Pine Sawmill, which includes a Roadtrain, a DFT-30 and a Walton.