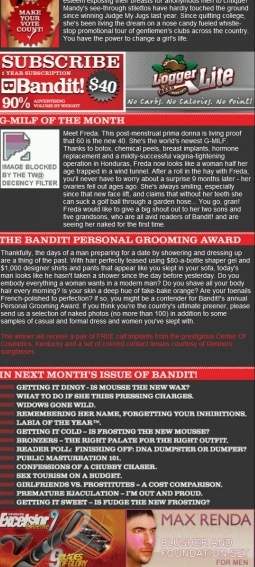 banditmagazine.net is a website on the Internet in The Lost and Damned.
Description
The website is about Bandit!, a men's magazine that claims to have just enough cars and tits in it to counterbalance the metrosexual aspects of the magazine. The website has an extensive section on how to pick up needy, or ugly chicks in bars and it also has a list of the latest gadgets and a piece about Bantit!'s hottest G-MILF. Bandit! Magazine is largely based on Gentlemen's Quarterly and similar men's magazines.
Ad blocker interference detected!
Wikia is a free-to-use site that makes money from advertising. We have a modified experience for viewers using ad blockers

Wikia is not accessible if you've made further modifications. Remove the custom ad blocker rule(s) and the page will load as expected.