The Bravado Banshee 900R is a custom variant of the Banshee introduced in the January 2016 Update, exclusive for Grand Theft Auto Online, which features highly-advanced modifications not present on the standard Banshee.
Design
Grand Theft Auto Online
In terms of design, the Banshee 900R has had some major changes. The most changes are notable in the rear quarter of the vehicle. The front of the car hasn't had too many alterations, however, the front arches are now wider and therefore the belt-line curves around the front of the bodywork to create a distinctive bulky appearance. The back of the front arches have been removed so the wheels are exposed. The sides of the car have been altered slightly, where the side-intakes have been extended to curve right up the rear wheel arches. A new skirt has been added which now folds over the body work at the rear, in front of the rear wheel arches.
On the rear fascia, the entire rear bumper has been changed. A new diffuser has been added which now extends its blades further on the left and right sides, more so than the center blades. The rear corners now have body kit extensions which are bolted on top of the original body work. The top of the rear wheel arches are now extended, known as flared wheel arches, or "spats".
The engine is the same as the standard Banshee, being a carbureted V8 with single cams, which is unusual for modern sports cars. The exhausts are now rear mounted and are twin-exit, twin exhausts by default, enclosed in carbon fibre plating. Oddly, it only exits at one side of the car, despite two encasement being present. Furthermore, the exhaust tips connect to a large silencer, but lacks an actual exhaust pipe.
In its entirety, the car is inspired from Hennessey Viper Venom 1000.
The Banshee 900R can have a vast array of modification to alter these new changes, from body work to engine block modifications, at Benny's Original Motor Works.
Current Design Gallery
Performance
Grand Theft Auto Online
Its overall performance has been altered rather dramatically, including a conversion into the Supers class rather than Sports. Both acceleration and top speed has been increased, becoming the fastest car in the game once it gets on a long straight road. However care should be taken at tight corners, as the vehicle is likely to oversteer and spin out due to overwhelming torque at low speeds.
GTA Online Overview



Vehicle Statistics - Grand Theft Auto V

Acceleration
(0-60 mph in Seconds)
Top Speed
(mph / kmh)
Gears
Engine
Drivetrain
(FWD / RWD / AWD)
Mass
(kg / lbs)
Fuel Tank
Size (litres)

Handling.dat

N/A
93 / 150
5
N/A
RWD
1150 / 2535
65

Website Statements

[?]

/ Badges

N/A
N/A
N/A
N/A
N/A
N/A
N/A

Observed / First-Person Speedometer (Enhanced version)

5.5 Seconds
120 / 193
5

FR

SOHC

V8 w/ 4 Double-Barrel Downdraft Carburetors/8 Throttle Bodies (In-game model)
RWD
Cannot be observed
Cannot be observed

Rockstar Games Social Club

Speed
80.482697%
Acceleration
86.875%
Braking
33.333336%
Traction
75.757576%
Modifications
Grand Theft Auto Online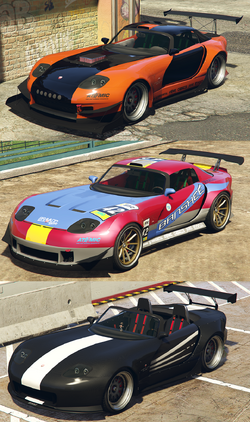 The Banshee 900R is heavily modifiable at Benny's Original Motor Works, featuring unique modifications not present on the Banshee, such as engine block modifications, vinyls, bodywork additions, paint-jobs, and interior features.
Type
Upgrade
Cost
Bumpers
Carbon Front Bumper
$4,600
Bolt on Arches
$7,400
Classic RS Bumper
$11,700
Drift RS Bumper
$14,500
GT Bumper
$14,700
Street SPL Bumper
$14,900
Exhaust
Dual Exit Exhaust
$750
Race Exhaust
$1,800
Chrome Tip Exhaust
$3,000
Twin Carbon Can
$9,550
Cannons
$9,750
Fenders
Rivetless Rear Arches
$900
Carbon Rear Arches
$1,500
Hood
Vented Hood
$3,000
Carbon Hood
$5,000
Bolt on Arches
$8,000
Smooth Hood
$9,600
Twin Filter Hood
$11,000
Twin Filter With Arches
$11,600
Exposed Filters Hood
$12,000
Exposed Ram Pipes
$12,400
Chrome Filter Hood
$12,400
Roof
No Roof
$700
Skirts
Custom Skirts
$5,500
Low Skirts
$8,000
Street Skirts
$10,500
Sport Skirts
$14,000
Carbon Skirts
$14,500
Spoiler
High Level Spoiler
$7,050
Mid Level Spoiler
$10,000
Drift Wing
$13,000
High Level GT Wing
$14,000
Extreme Downforce BGW
$16,000
Tarmac Attack Wing
$16,500
Tailgate
Smoothed Rear Decklid
$750
Bolt-On Ducktail Decklid
$1,340
Smoothed Carbon Decklid
$1,650
Full Carbon Decklid & Panels
$3,000
Type
Subcategory
Upgrade
Cost
Engine
Engine Block
Primary Color Valve Covers
$28,800
Secondary Color Valve Covers
$30,600
Polished Valve Covers
$32,400
Carbon Valve Covers
$34,200
Strut Brace
Polished Strut Brace
$16,800
Carbon Strut Brace
$17,850
Medium Polished Strut Brace
$18,900
Medium Titanium Strut Brace
$19,950
Titanium Strut Brace
$21,000
Wide Titanium Strut Brace
$21,525
Large Polished Strut Brace
$22,049
Stickerbomb Strut Brace
$22,575
Polished Twin Bar Strut Brace
$23,100
Extreme Billet Strut Brace
$23,625
Lightened Racing Strut Brace
$24,150
Engine Tunes
EMS Upgrade, Level 1
$9,000
EMS Upgrade, Level 2
$12,500
EMS Upgrade, Level 3
$18,000
EMS Upgrade, Level 4
$33,500
Image Gallery
Grand Theft Auto Online
Locations
Grand Theft Auto Online
The Banshee 900R can only be obtained by upgrading a stock Banshee at Benny's Original Motor Works for $565,000. The player simply needs to purchase a standard Banshee, take it to Benny's garage and upgrade the vehicle to "Banshee 900R". Unlike the Sultan, the Banshee cannot be upgraded if was stolen from traffic as it is considered "too hot" to be given upgrades.
Trivia
See Also