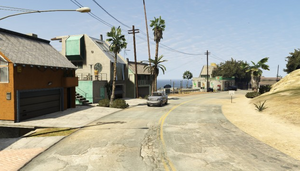 Barbareno Road is a two-way residential street in Grand Theft Auto V, located in Chumash, Los Santos County. It begins and ends at Route 1. According to signage, the speed limit on the street is 25 mph.
Places of Interest
Chumash Historic Family Pier
Businesses
24/7 (accessible interior)
Barracuda Café (at Chumash Historic Family Pier)
Trivia
Gallery
Ad blocker interference detected!
Wikia is a free-to-use site that makes money from advertising. We have a modified experience for viewers using ad blockers

Wikia is not accessible if you've made further modifications. Remove the custom ad blocker rule(s) and the page will load as expected.