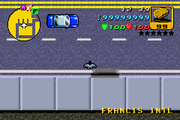 The Barrel was a weapon that was removed early in the development of Grand Theft Auto Advance. The player had to roll it to an enemy and it would crush them. It was probably removed from the game due to it being far from realistic.
Navigation
Weapons
Lists
Weapons in
Categories
Related topics
Ad blocker interference detected!
Wikia is a free-to-use site that makes money from advertising. We have a modified experience for viewers using ad blockers

Wikia is not accessible if you've made further modifications. Remove the custom ad blocker rule(s) and the page will load as expected.