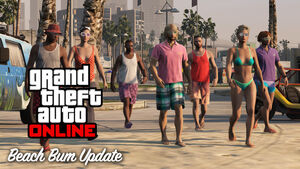 "Get ready to drop some sea shells with all new vehicles, weaponry and a load of new Jobs"
The Beach Bum Content Update is the first content update for Grand Theft Auto V / Online. It is free and was released on the 19th of November of 2013 as part of the 1.06 patch. It has been stated to be the first of many free and paid updates and DLC's to be released for GTA V / GTA Online.
It contains 4 beach-themed vehicles, 2 weapons, many new beach-themed clothes (e.g. shorts), 4 new haircuts (2 male and 2 female), new tattoos, and 30+ multiplayer jobs.
Update content
Jobs / Services
Multiple jobs around the beaches of San Andreas, mostly in Vespucci Beach, have been added. Amongst these are a Survival on the Del Perro Pier, a deathmatch on Paleto beach and an off-road race from the Zancudo River to North Chumash, amongst others. New gang attacks have also been added in coastal areas.
Character customization (Clothes, haircuts, tattoos, etc.)
Many new beach-themed clothes, for both male and female Online characters, have been automatically added to their wardrobes and can be equipped either in safehouses or in clothing stores. Amongst these are multiple shorts, bucket hats, bathing suits and tank tops. There are also new tribal tattoos and four new haircuts (Two male and two female) with a shaggy look.
Weapons
Two new weapons are included in the update. Both are automatically added to the singleplayer character inventory and, in Online, can be obtained for free in Ammu-Nation stores.
| | | |
| --- | --- | --- |
| | | A basic melee weapon with surprisingly effective damage, being capable of killing enemies slightly faster than the average Knife. |
| | | A small compact pistol, bearing good power but short range. An extended magazine can be purchased for it to extend the ammo capacity from 6 to 12 bullets. |
Vehicles
Four new vehicles are included in the update. The road vehicles can be obtained in singleplayer by visiting the characters garages for the land vehicles and the characters dock for the Speeder. In Online, the road vehicles can be obtained free in the in-game website southernsanandreassuperautos.com and the Speeder can be obtained for free in the in-game website docktease.com.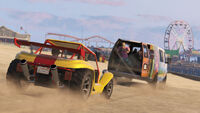 | | | |
| --- | --- | --- |
| | | A dune buggy with above average performance and great off-road capabilities. It slightly resembles the 3D Universe rendition of the BF Injection. |
| | | An utility off-roading truck strongly inspired by the Citroen Mehari, with good off-road performance. |
| | | A Rumpo-based camper van with moderate high speed and mid-level handling, notable for its painted artworks. |
| | | A returning speed boat from the 3D universe that stands out for being one of the fastest in the game. |
Video
References