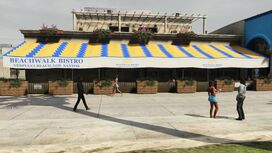 Beachwalk Bistro is a small restaurant in Grand Theft Auto V.
It is located next to Canal Treats and Papa Surf on the walkway near Vespucci Beach in Vespucci, Los Santos. It accepts Fleeca, Shark and Limit credit cards and cash as payment options. According to signs, the business prohibits the allowance of pets.
Ad blocker interference detected!
Wikia is a free-to-use site that makes money from advertising. We have a modified experience for viewers using ad blockers

Wikia is not accessible if you've made further modifications. Remove the custom ad blocker rule(s) and the page will load as expected.