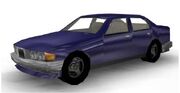 The Beamer is a vehicle in Grand Theft Auto 2 that can only be found in the Downtown District of Anywhere City. It's based on a BMW 507, and it gives a flamethrower when crushed. In the beta version of Grand Theft Auto III, the Sentinel was originally called the "Beamer".
Trivia
"Beamer" is a common nickname for BMW cars, particularly in the UK.
The engine is located in the back unlike some cars, as it smokes and catches fire in the back of the car, not the front.
In the interior of Joey Leone's Garage, an exploded Beamer can be seen.
A Mafia version of the car was created for GTA III, but was cut before the final release of the game.