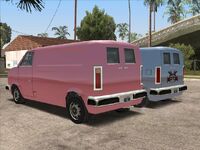 Berkley's RC Van is a variant of the Pony featured in Grand Theft Auto: San Andreas, used by Berkleys RC. The van is infamous for being extremely rare as it cannot be found outside the missions it appears in and can only be obtained using a glitch (see below). It sometimes has boxes of model cars in the back - the same ones that can be seen in Zero RC. Even though it's based on the Pony there are a few differences, like the taillight design and the location of the gas cap door. There is an optional side-mission called Beefy Baron in the back room of Zero RC in which you must destroy these vans with an RC Baron within a time limit.
Performance
The van has a slightly higher top speed than most; according to the game's files, its top speed is 80 miles per hour (134 kilometers per hour) and it has moderate acceleration. It can sustain quite a bit of damage due to its large size and it has pretty good stability when rounding corners. It actually has average handling in most scenarios.
Glitch
There is a game glitch that can be used to obtain the Berkley Van. First, enter the Zero RC shop in Garcia. Head to the back of the shop, you will find a red marker. Enter it to start the Beefy Baron mission. Once the mission starts and you have control of the Baron press the change view button (PC default is V). Your view will change to a Berkley Van that has spawned high up above San Andreas with Carl Johnson in the drivers seat (you can't control it until the mission ends). The van will fall for about 15 seconds before smashing onto the roof of Zero's RC shop. Now fail the mission, (either by keeping the baron still for a while and pressing the self-destruct button, or by waiting for the timer to run out.) you will appear back in the shop. Quickly run outside and use the Jetpack cheat, or use your own if you have one nearby, and use it to fly up the roof of the shop. The Berkley Van will be there waiting for you, if it is not, then try again. Now you can simply drive it off the roof of the shop and it's all yours.
Other means of acquiring the van
Vans have been sighted driving around The Sherman Dam and Las Venturas while driving a Burrito, Pony, or Rumpo. The van is also rarely seen driving on the road at The Fallen Tree and the factories near Fort Carson, but like in the aforementioned Las Venturas and Sherman Dam, driving any other van will make spawn chances higher.
Trivia
The vehicle's ID, model, texture, and text entry names are Topfun. Only the text string has the name Berkleys RC Van.
The default radio station in the Berkley's RC Van is Playback FM.