The article is subject to high amounts of speculative content


Please add references to any content added to the page otherwise the edit will be reverted. Any content that cannot be verified could be discussed on the talk page first.
The accuracy of some information on this page has been disputed.



You can help by making this verification, finding sources to prove the integrity of the information or by discussing any changes that could be made on the article's talk page.
This article lists Beta content in Grand Theft Auto: Chinatown Wars.
Before the release of Grand Theft Auto: Chinatown Wars, there were features that were removed from the final product. These changes range from deleted vehicles and player skins to the removal of entire characters and mission strands.
Characters
Ling Shan was supposed to wear a red dress in the mission according to her concept artwork.
Vehicles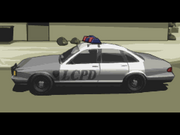 Video