The article is subject to high amounts of speculative content


Please add references to any content added to the page otherwise the edit will be reverted. Any content that cannot be verified could be discussed on the talk page first.
The accuracy of some information on this page has been disputed.



You can help by making this verification, finding sources to prove the integrity of the information or by discussing any changes that could be made on the article's talk page.
Before the release of Grand Theft Auto: Liberty City Stories, there were features that were removed from the final product. These changes range from deleted vehicles and player skins to the removal of entire characters and mission strands.
Characters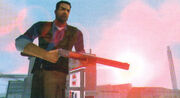 Weapons
Missions
A screenshot suggests that Toni could wear the Leone's Suit when doing missions for JD.
The mission for Phil Cassidy was cut. Only the HUD icon remains.
Unknown Phone Missions were cut. Only HUD icons remain. It is possible that the icon replaced the "S" from Salvatore phone missions.
After "Driving Mr. Leone", there would be a news report about Shoreside Lift Bridge and Porter Tunnel under construction.
A mission called Firetruck Frenzy was cut.
Massacres were cut.[1]
A Mission called Mobile Massacre! was cut.[2]
Assassination Contracts were cut.[3]
Clothing
Vehicles
Others
The player could buy properties. Only the HUD icon remains.
Snow was cut, but it can be still enabled and seen in the side mission Car Salesman level 9.
Originally, the LCPD would have chased the player in Predators on higher wanted levels. Sound files exist.
There were originally advertisements for billboards advertising The Clam Digger and Pocket Rocket 2: The Grape Smugglers.[4]
Video
References