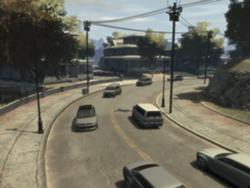 Big Horn Drive is a street located in Westdyke, Alderney in Grand Theft Auto IV. The street starts along Beaverhead Ave, also in Westdyke, goes north then east, along a RON petrol station and its car wash, dips south and stops along Owl Creek Ave.
Some mansions feautered in the CNT show, I'm Rich, are located along the street. A helipad on one of them spawns a Maverick.
Trivia
The street is named after the mountain range in western USA or the famous battle, a battle with the Americans against the Native Americans and where Colonel Custer died or even a sexual reference, as "Big Horn" is slang for a large penis.