Ad blocker interference detected!
Wikia is a free-to-use site that makes money from advertising. We have a modified experience for viewers using ad blockers

Wikia is not accessible if you've made further modifications. Remove the custom ad blocker rule(s) and the page will load as expected.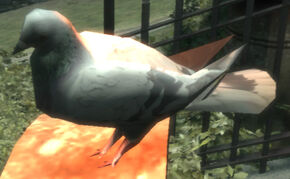 Birds are one of the few animals in the GTA series, appearing in Grand Theft Auto: San Andreas, Grand Theft Auto IV and Grand Theft Auto V. In GTA V, birds that are in the air can be shot down, and their carcass can be viewed on the surface they land on.
Spawning Points
GTA San Andreas
Different birds spawn everywhere around San Andreas.
Grand Theft Auto IV
Grand Theft Auto V
Gallery
Trivia