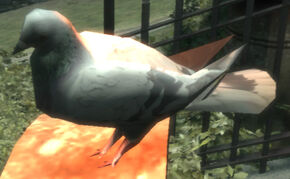 Birds are one of the few animals in the GTA series, appearing in Grand Theft Auto: San Andreas, Grand Theft Auto IV and Grand Theft Auto V. In GTA San Andreas, if the player shoots at a bird, it will disappear. In GTA IV, if the player shoots at a bird, it will explode. In GTA V, birds that are in the air can be shot down, and their carcass can be viewed on the surface they land on.
Spawning Points
GTA San Andreas
Different birds spawn everywhere around San Andreas.
GTA IV
Pigeons, or "flying rats" appear all over Liberty City. Exterminating them all earns a reward.
Seagulls on beaches.
Eagles in the trailer. Maybe removed from the final build.
GTA V
In-game, the player will find seagulls, crows, ducks, and a few other species of birds which are usually found while flying aircraft. They mostly appear in brown, black, and grey.
Gallery