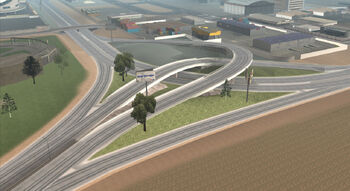 "Scene of repeated illegal street racing. Luckily we bust the little bastards and ruin their stupid cars."
―GTA San Andreas Website.
The Blackfield Intersection is a major highway intersection and district in Las Venturas, San Andreas in Grand Theft Auto: San Andreas, connecting Julius Thruway South, Julius Thruway West, and the Las Venturas Highway.
The intersection takes its name from the Blackfield district in Las Venturas directly northwest from the intersection, and sits at the base of Greenglass College in the southwestern portion of Las Venturas. The intersection is also identical in design to the Pilson Intersection, barring its mirrored layout.
Collectibles