This article or section contains insufficient information and is considered as a Stub. You can help the GTA Wiki by expanding it as much as you can.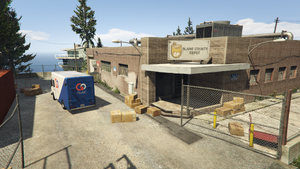 Blaine County Depot is a Post Op location operating in Paleto Bay in Grand Theft Auto V. Their phone number is 425-555-0170, but when called, there is no response. Blaine County Depot cannot be accessed by the player and plays no role in the storyline.
Despite being a Post OP depot a GoPostal Boxville often spawns at the location.
Ad blocker interference detected!
Wikia is a free-to-use site that makes money from advertising. We have a modified experience for viewers using ad blockers

Wikia is not accessible if you've made further modifications. Remove the custom ad blocker rule(s) and the page will load as expected.