This article or section contains insufficient information and is considered as a Stub. You can help GTA Wiki by expanding it as much as you can.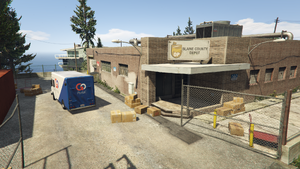 Blaine County Depot is a Post Op location operating in Paleto Bay in Grand Theft Auto V. Their phone number is 425-555-0170, but when called, there is no response. Blaine County Depot cannot be accessed by the player and plays no role in the storyline.
A Boxville can sometimes spawn in the loading area.