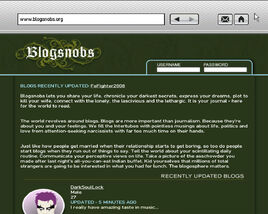 blogsnobs.org is a blog-publishing website in Grand Theft Auto IV. It is a parody of the Google-owned Blogger service. Two characters Niko can meet in the game, Alexandra Chilton and Eddie Low, both have blogs.
In the real world, this site is an Apache HTTP server test page.
The viewable blogs are as follows:
Ad blocker interference detected!
Wikia is a free-to-use site that makes money from advertising. We have a modified experience for viewers using ad blockers

Wikia is not accessible if you've made further modifications. Remove the custom ad blocker rule(s) and the page will load as expected.