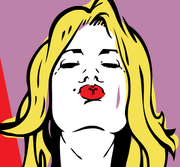 Bonnie Knight is one of the fictional stars of the Angel and the Knight television show, along with Chris Van Angel. She is a recovering alcoholic ninja who solves crime with Van Angel, living with him on a speedboat. She will sleep her way to the truth. It is heard on the Wave 103 commercial that she makes a blowjob to a drug lord to get some information from him.
Ad blocker interference detected!
Wikia is a free-to-use site that makes money from advertising. We have a modified experience for viewers using ad blockers

Wikia is not accessible if you've made further modifications. Remove the custom ad blocker rule(s) and the page will load as expected.